I find that even collectors of bronze can be unclear about how editions work. Here I'll pull back the curtain on the bronze industry a little and give you some key vocabulary to understand what you're seeing here and at other sculpture sites.
You'll find a nice video on the process of how bronze sculptures are made right here, so I won't get into that again. Early on in the process I decide how large an edition will be, in other words how many of a particular design will be created before the mold is destroyed. This is the whole idea behind limited-edition bronzes.
Edition Numbers
Let's use an edition of 39 as an example, the size of my tabletop dachshund sculpture Doxie Bump. That means that 39 individual doxies could be produced. I had a mold that could be reused to make 39 waxes that can be turned into 39 bronzes. Those bronzes were numbered "1/39," "2/39," "3/39," and so on until you reach the end of the edition, "39/39." Look for the edition number somewhere on the bronze.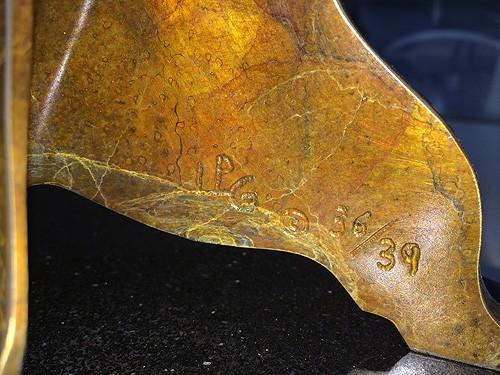 Once all of those doxies have been created and adopted, the edition is said to be sold out. We can't make any more. However, there are few other 13″ Doxie Bumps that will be produced and may or may not be made available for adoption. They are the Artist's Proofs and the Foundry Proofs.
What Are Artist's Proofs and Foundry Proofs?
Artist's Proofs , Artist proofs are typically kept around by sculptors to compare to each member of the edition as they are produced to make sure the chasing, patina, etc. all look right. Artists proofs may or may not be made available to the public. There is also no hard and fast rule about how many artist's proofs might get made for an edition, but typically it can be up to a 10th of the edition size. So, should I be so inclined, there might eventually be four artists proofs of 13″ Doxie Bump. These will be numbered on each "AP 1," "AP 2," and so on.
Foundry Proofs , Similar to artist's proofs, foundry proofs are used at full-service foundries to serve as reference tools at each stage of production. There would be a wax foundry proof to help the wax chaser recreate what the finished piece should look like. There will also be a chased metal foundry proof to provide guidance to the metal chaser who's grinding and welding the raw metal. Lastly, there would be a patina foundry proof to guide the patineur in applying the correct final coloration.
Foundry proofs are little rarer than artist proofs. Normally there won't be more than a few of them, even for larger editions. If the foundry proofs are fully produced, they will be numbered on each "FP 1/3," "FP 2/3," "FP 3/3."
Even though I don't use a full-service foundry, I might have a foundry proof or two made for general reference. And again, foundry proofs may or may not be made available for sale.
How Do you Decide on the Edition Size?
There is an enormous upfront investment in time and materials to bring a new design to life. The sculptor must balance that cost with the potential popularity of a design to arrive at an edition size. Some sculptors make very small edition sizes and charge a lot for each edition number. Others make larger to enormous edition sizes for potentially popular pieces, thus spreading the joy around even more. Like I said, it's a balancing act.
I try to strike that balance by creating edition sizes that allow me to keep my adoption fees a little lower, thereby making the pieces more accessible. Maybe when I'm like the most famous sculptor in the world I'll be able to create editions of three and charge a hundred thousand dollars for each. That would be nice! But until then, my limited-edition joyful bronzes won't be limited to the uber-rich.
So What's the Deal with Open Editions?
Lastly, we have open additions. The Desk Buddies sculptures are all open editions, for example. That means we can reduce our costs by not tracking and limiting how many of each design we make. As long as folks keep adopting them, we'll keep making them. Open editions are one of the best ways to keep prices lower.
As I'm fond of saying, the desk buddies are just as time- and labor-intensive to produce as the limited-editions, there are just more of them to love!