I'm sure there are plenty of you out there who, like me, struggle to find anniversary gifts that are unique yet meaningful to your lasting love and relationship. Traditionally, the 8th wedding anniversary is commemorated by gifts of bronze or pottery. Who knew?
The 8th may not get as much attention as 10, 20, or 50, but if you keep reading, you'll see why maybe it should…
Traditional 8th Wedding Anniversary Gift Symbolism
Bronze and pottery both have very sweet, traditional symbolism. Bronze sculptures are made with great care and craftsmanship, focusing on precise details resulting in a strength meant to last many lifetimes. Details are kind of important to a long-lasting relationship, don't you think?
Additionally, the finishing touches and patina are critical to protect the bronze and prevent the colors from changing over time. Translation — Your love must be tended to and protected over time, or like anything else, it will fade.
Pottery also shares an obvious symbolism in the shaping and molding of a work of art that is meant to last.
The modern 8th anniversary gift choice is linens. Borrrring! Even if I didn't create bronze sculptures, I would still prefer the traditional and unique gift of bronze.
Without further ado, here are some of my sculptures that were created with the bronze anniversary gift in mind!
Two Become One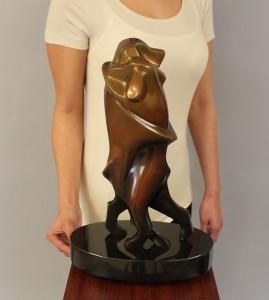 This is an intimate Limited-Edition sculpture of a couple listening to their favorite song while dancing in the moonlight. This evolved from the sculpture below titled "Slow Dance"
She Said Yes
Similar to "The Proposal", this bronze Desk Buddy captures that moment of commitment for those who appreciate dogs and art almost as much as their love for each other. I kept these dogs less specific-breed specific so they could celebrate anyone's wedding anniversary!
The Proposal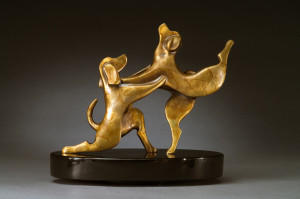 There are few of my sculptures that capture that magical moment where it all started. This is my traditional nod to formal romance. I chose a Beagle as the proposer due to their affectionate nature, with the edges of the piece overall being a little softer as an expression of the tenderness of the moment.
Slow Dance
Similar to "Two Become One", this Lab and Boxer sculpture is about pure tenderness and being in a timeless moment. Softer edges and a classic French Brown patina compliment this intimate wedding or anniversary gift.
Shell We Dance?
For a lighter take on romance and relationships, this one is perfect. First of all, I love turtles! This turtle sculpture symbolizes and commemorates the playful and whimsical side of your love.
It turns out, the 8th Wedding Anniversary is more critical than you thought…
There isn't a more meaningful and ironic statistic pertaining to an 8th wedding anniversary and bronze gifts:
The average length of a marriage that ends in divorce is eight years. 
Wow. Talk about an absolutely pivotal wedding anniversary and relationship milestone to cross! How interesting that the traditional gifts for eight years speak to durability and longevity.
When I read that statistic, I knew I had to write about this since I find deep meaning in the enduring nature of the bronzes I create. But of course, that pales in importance compared to the themes love, strength, and longevity in our relationships.