I've been back for a few (ok, six) weeks now and have finally settled down enough to bang out a few thoughts on the Art on the Square show in Belleville, Illinois.
Art on the Square is in their 14th year, and boasts the #2 ranking in the nation by Greg Lawler's Art Fair Source Book. It's held annually the weekend after Mother's Day in downtown Belleville.
The Venue
This is truly a community effort — From the live music and food, to the artist events the show organizers put on. It's a very well laid out show, set around the town square and water fountain in a shape like a big plus sign. Easy to walk and no dreaded "dead spots" that all artists loathe.
The show provides a nice artist hospitality area with snacks and such. We also received a meal a day delivered to our booths, brought by the wonderful volunteers. Unlike at some outdoor shows security wasn't a concern, as the police department is right there off the square and had a good patrol presence at night.
Artist parking is very close to the square, which is super handy. We also get to drive right up to the booths for set-up and tear down; a big plus for those of us with heavy art and complex displays.
On Sunday I spotted this adorable pair of little red-headed girls who were part of a local music school playing Beethoven's 5th. I just had to snap a pic.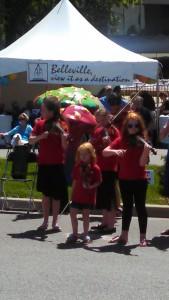 Artist Events
I was impressed with the events the show put on for the 100+ artists. On Saturday evening after the show wrapped up, there was a display of pieces created by local art students. Participating show artists got to judge the artwork and vote for their favorites, all while enjoying wine and snacks.
On Sunday morning they put on a seriously good breakfast buffet for the artists and community leaders. This is where they give out the awards, which are very substantial. Nice to see a show using the money it brings in this way.
The Show
Art on the Square does a kick-off gala featuring live music, food and drinks. And once into the weekend it's also a very kid-friendly show. Right behind our booth was an educational and interactive children's art section where they can create work to take home. There was a large mural that kids can color and draw on, and when it fills up, they wash it off and start all over again.
One unique aspect of the show was its "art cash." This is a dollar-for-dollar exchange that gives the attendees a kind of monopoly money. It guarantees folks will spend on art. The show pre-sells hundreds of thousands of dollars in art cash before the show, then volunteers come by each booth on Sunday to redeem the cash collected. Pretty slick.
Belleville brings in a broad, diverse set of art collectors. We had visitors from all around the eastern St Louis area, even though the weather predictions were iffy. The Desk Buddies were popular, as always, but patrons also snapped up my larger work. Very gratifying!
The show organizers did a great job communicating with the artists. They were very quick to respond to questions, and when the rain came in, I received a text and a call on my mobile. They even gave us sandbags to help hold things down when the wind came up.
I gotta say, it's very cool that such a small, community-supported festival has been able to become one of the top shows in the nation. They seem to have the recipe for success!